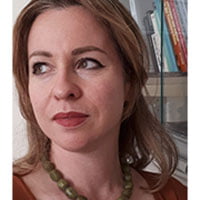 Elisa Giomi
Elisa Giomi is Associate Professor at Roma Tre University, Department of Philosophy, Communication and Performing Arts, where she teaches Sociology of Media and Communication (undergraduate level), Television Storytelling (graduate level), and Advertising (graduate level). She is Staff Member of the Cultural Leadership Research Master's Degree Course, a postgraduate double degree program (Groningen University and Roma Tre University), where she teaches Media. She coordinates the Media and Communication Module of the MA in Gender Studies and Politics (Roma Tre University). She holds a MA in Gender Studies, Equal Opportunities and Teaching Practices (University of Siena, 2003) and a PhD in Communication, Media, and the Public Sphere (University of Siena, 2007).
She has carried out several research projects in the field of gender and the media. In 2016 and 2017, she was co-coordinator of the research team (ISIMM Ricerche and Roma Tre University) in charge of monitoring the representation of women in the programs of RAI (Italy's public broadcasting company). In 2015, she contributed to the Global Media Monitoring Project by leading the group that analyzed Italian public service and commercial radios. In 2013, she was the Scientific Coordinator of the European project 'Tender EIGE/2010/OPER/01. Collection of methods, tools and good practices in the field of Women and the Media' (tenderer: EIGE – European Institute for Gender Equality); she has also co-authored a study commissioned by the European Parliament's Committee on Women's Rights and Gender Equality (Women and Girls as Subjects of Media's Attention and Advertisement Campaigns: the Situation in Europe, Best Practices and Legislations').
Since 2011, Elisa Giomi is member of the editorial board of 'AG-AboutGender. International Journal of Gender Studie On Line'; from 2010 to 2012 she joined the Women's Studies Network of ECREA (European Communication Research and Education Association); from 2003 to 2007 she was member of the European Commission's Media Literacy Expert Group.
She regularly teaches courses on best practices in media coverage of gender violence for national broadcasters, for the Italian Journalists' Association and for the Union of Journalists.
Since 2002 to 2006, Elisa Giomi was post-doctoral fellow at the Department of Communication Studies, University of Siena. In 2003 she was awarded with a scholarship at the University of Texas at Austin, College of Communication, Radio-Television-Film Department.
Elisa Giomi's main research lines focus on: media, technology and gender violence; media representations/consumption and gender identity; qualitative analysis of TV genres and formats, with particular reference to (either fictional and factual) crime stories.
Email: elisa.giomi@uniroma3.it