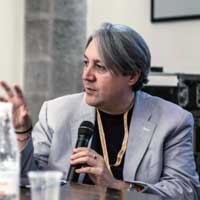 Giovanni Boccia Artieri
Giovanni Boccia Artieri is a sociologist, writer and teacher Italian and full Professor in Sociology of Communication and Digital Media. Currently he is the Dean at the Department of Communication and Human Studies of the University of Urbino CarloBo.
He is Coordinator of the Ph.D. program on Humanities. His main research interests revolve around media theory, with a specific focus on social network society and participatory culture. Current research projects include social history of the Internet; social television; big data/deep data research methodology; social network sites as a ground to observe and study emergent social phenomena.
He is also President of the Degree in Advertising Media Information, coordinator of the Research Doctorate in Sociology of Communication and Entertainment Sciences and Vice Director of LaRiCA, research laboratory on advanced communication. His research interests concern the relationship between media, identity and society; the languages ​​and expressive forms of completed modernity; participatory cultures and trans medial narratives; connected publics and productive publics.
https://mediamondo.blog/whos-who/
https://www.facebook.com/giovanni.bocciaartieri