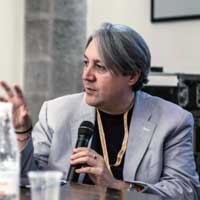 Prof. Giovanni Boccia Artieri
---
Department of Communication Sciences, Humanities and International Studies
University of Urbino, Italy
Giovanni Boccia Artieri is a sociologist, writer and teacher Italian and full Professor in Sociology of Communication and Digital Media. Currently he is the Dean at the Department of Communication and Human Studies of the University of Urbino CarloBo.
He is Coordinator of the Ph.D. program on Humanities. His main research interests revolve around media theory, with a specific focus on social network society and participatory culture. Current research projects include social history of the Internet; social television; big data/deep data research methodology; social network sites as a ground to observe and study emergent social phenomena.
He is also President of the Degree in Advertising Media Information, coordinator of the Research Doctorate in Sociology of Communication and Entertainment Sciences and Vice Director of LaRiCA, research laboratory on advanced communication. His research interests concern the relationship between media, identity and society; the languages ​​and expressive forms of completed modernity; participatory cultures and trans medial narratives; connected publics and productive publics.
https://mediamondo.blog/whos-who/
https://www.facebook.com/giovanni.bocciaartieri
Prof. Shannon A. Bowen
---
School of Journalism and Mass Communications
College of Information and Communications,
University of South Carolina
United States
Dr. Shannon A. Bowen is a Full Professor in the School of Journalism and Mass Communications at the University of South Carolina (US) where her research focuses on ethical decision making within the highest levels of organizations.
Dr. Bowen teaches and researches ethics across corporations, pharmaceutical firms, governmental entities, and the public relations industry. Bowen is one of three joint-editors for the journal Ethical Space: The International Journal of Communication Ethics.
Dr. Bowen sits on the Board of Trustees of the Arthur W. Page Society, the Board of Directors of the non-profit International Public Relations Research Conference (IPRRC), serves several journal editorial boards including the Journal of Mass Media Ethics, and is a Contributing Editor of Media Ethics magazine.
She has published in numerous journals and won several awards, including top paper awards, an ethics grant from the International Association of Business Communicators, and the "Jackson Jackson & Wagner Behavioral Science Research Prize". Until 2012, Dr. Bowen was tenured in the SI Newhouse School of Public Communications at Syracuse University. Her Ph.D. is from the University of Maryland; her dissertation on Kantian ethics won the "Robert Heath Outstanding Dissertation Award". Her MA in Journalism and Mass Communication is from the University of South Carolina, and her BA is from the University of North Carolina at Chapel Hill.
Dr. Bowen is passionate about ethics. She hopes that her work researching and teaching ethical decision making can create a better society, in which more responsible and transparent organizations interact honestly with informed, engaged consumers and citizens. Dr. Bowen noted, "In the world of studying public relations, lobbying, and corporate policy, ethics is never boring!"
https://sc.edu/study/colleges_schools/cic/faculty-staff/bowen_shannon.php
https://www.facebook.com/profbowen
Prof. Mohan Dutta
---
School of Communication, Journalism and Marketing
Massey University, New Zealand
Mohan J Dutta is Dean's Chair Professor of Communication. He is the Director of the Center for Culture-Centered Approach to Research and Evaluation (CARE), developing culturally-centered, community-based projects of social change, advocacy, and activism that articulate health as a human right. Mohan Dutta's research examines the role of advocacy and activism in challenging marginalizing structures, the relationship between poverty and health, political economy of global health policies, the mobilization of cultural tropes for the justification of neo-colonial health development projects, and the ways in which participatory culture-centered processes and strategies of radical democracy serve as axes of global social change. Based on academic-activist collaborations, the culture-centered approach uses fieldwork, resistive strategies for performance and dialogue-based reflexive participation to create entry points for listening to the voices of communities at the global margins.
The social impact in Mohan Dutta's work bridges activist interventions and academic knowledge production, delineating the tensions, divergences and convergences when academics, activists, and communities come together in co-creating transformative practices. He is interested in theorizing the nature of productive practices of academic performance situated at the intersections of subaltern politics, activist commitments, and academic research. In his most recent performance work, he has served as the visiting artistic director for Rittwick, a grassroots group in West Bengal, India working on performance for social change. He has also directed the "Singaporeans Left Behind" "Voices of Hunger" and "Respect our Rights" campaigns and documentary films.
Prof. Dutta is the winner of the 2016 International Communication Association (ICA) "Applied/Public Policy Communication Research Award", and the 2018 "Outstanding Health Communication Scholar Award". He serves on the Advisory Panel of the World Health Organization (WHO) Cultural Contexts of Health (CCH) group.
Professor Dutta has published more than 100 articles in international academic journals and he wrote the following books "Communicating health: A culture-centered approach" published by Polity Press; "Communicating social change: Structure, culture, agency" in collaboration with Taylor & Francis, and more recently "Voices of Resistance" (Purdue University Press).
http://www.massey.ac.nz/massey/expertise/profile.cfm?stref=285450
https://www.facebook.com/mohan.dutta.982
Prof. Vilma Luoma-aho
---
University in Jyväskylä
Finland
Vilma Luoma-aho is professor of Corporate Communication and Vice Dean of Research at JSBE University of Jyväskylä School of Business and Economics in Finland, and a visiting professor at IULM, Milan. She is an expert on intangible assets in organizations: her recent research focuses on young people and influencers, and her newest books are on public sector communication (Wiley-Blackwell). She has published in the leading journals of public relations and is active in consulting and working with the communication industry in Finland.
Luoma-aho is active in consulting businesses and public sector organizations with their stakeholder engagement, and served as the Chairman of the Board of ProCom, the Communication Professionals in Finland between 2016-2019, and currently serves as chairman for Social Science Division of MATINE, the Scientific Defence Council under Finnish Ministry of Defense and sits on the board of the technology company VALU. Currently she leads research projects on strategic communication and young people and social media funded by the Academy of Finland: #Agents – Agency of Young people in social media.
Luoma-aho has won several awards for teaching, the communication profession and research including "Best Teacher in Intercultural Setting" at JYU in 2008 and "Communication Professional of the Year", ProCom, 2014 and Best Theoretical Paper at CCI 2019. She is the author and editor of several books including "Public Sector Communication – Closing gaps between citizens and public organizations (2019). She is the professor in charge for the Finnish data of the European Communication Monitor, and currently working on social media influencers, strategic communication and intangible assets in the public sector.
https://www.jyu.fi/jsbe/fi/tiedekunta/henkilosto/jsbe-faculty/luoma-aho-vilma
https://www.facebook.com/vilmaluo
Phillip Wd Martin
---
Senior Investigative Reporter, WGBH Boston
Cambridge, Massachusetts
Broadcast Media
USA
Phillip Martin is Senior Investigative Reporter for WGBH News and a contributing reporter to PRI's The World, a co-production of WGBH, the BBC and PRI; a program, which he helped develop as a senior producer in 1995.
Phillip is the recipient of the Society of Professional Journalists 2017 Sigma Delta Chi award for Best Investigative Reporting and the 2014 national Edward R. Murrow Award for Best Investigative Reporting (large-market radio). He also was honored with 2013 New York Festivals and United Nations UNDPI Gold Awards. He was part of a team of reporters that was honored in 2002 with a George Foster Peabody Award to NPR for coverage of the September 11th terrorist attacks in the US. He has received numerous other journalism and civic engagement honors over the course of his career.
Since joining WGBH in the spring of 2010, Phillip has reported on human trafficking, politics and race, the Boston Marathon bombing, gangs, terrorism, Whitey Bulger, carbon offset schemes, police shootings, training and race, the Occupy and Black Lives Matter movements, and the fishing industry in New England, among other topics.
On WGBH­-TV, he is a regular panelist for Basic Black and hosted PBS's World Compass 2012 presidential primary coverage.
Phillip worked as a supervising senior editor for NPR West and was NPR's first national race-relations correspondent from 1998 to 2001. He was the executive producer for Lifted Veils Productions, a nonprofit public radio journalism project "dedicated to exploring issues that divide and unite society". His Color Initiative an occasional series of reports about the global impact of skin color ­aired on The World from 2007 to 2010.
Phillip is a Senior Fellow with the Schuster Institute for Investigative Journalism at Brandeis University. He was a Harvard University Nieman Fellow from 1997 to 1998 and a 1997 U.S. Japan Media Fellow. He earned a master's degree in law and diplomacy from the Fletcher School of Law and Diplomacy at Tufts University and studied international protection of human rights law at Harvard Law School as well as journalism at the University of California at Berkeley in the Program for Minority Journalists.
https://www.wgbh.org/news/people/phillip-martin
https://www.facebook.com/phillip.w.d.martin
Prof. Rosalind Gill

---
University of London
United Kingdom
Rosalind Gill is Professor of Social and Cultural Analysis at City, University of London, and has written extensively about media, work, and intimacy. She is known for her work exploring the relationship between culture and subjectivity, developing ideas about the psychological turn in neoliberalism. Her twelve books include Gender and the Media (Polity, 2007); Aesthetic Labour: Beauty Politics in Neoliberalism (Palgrave, 2017 with Ana Sofia Elias and Christina Scharff);  and Mediated Intimacy: Sex Advice in Media Culture (Polity, 2018, with Meg-John Barker and Laura Harvey). Her most recent book is The Confidence Cult(ure) (Duke University Press, with Shani Orgad).
Prof. Michele Sorice
---
LUISS University
Italy
Michele Sorice is Professor of Democratic Innovation and of Political Sociology at LUISS University, where he is also director of the CCPS (Centre for Conflict and Participation Studies). He also teaches Sociology of Communication.
At LUISS School of Government, he is the Director of Master in Open Government and Institutional Communication (MACOM), and he also teaches at the School of Journalism.
Michele is a member of the Advisory Board of the Media and Politics Group of the Political Studies Association of the UK and member of the Participatory and Deliberative Democracy Specialists Group of the same association. He is also a member of the Scientific Committee of the International PhD in Political Philosophy and Political Science based at LUISS University. He coordinates a European research network on media, democracy and pluralism.
Michele has been Honorary Professor at University of Stirling, Scotland, UK.
He has been teaching Media Sociology for 6 years at the University of Lugano, Switzerland, and he was Professor at the University of Rome la Sapienza, Italy. As Invited Professor, he has also been teaching Political Science at Pontifical Gregorian University for several years. He helds lectures and conferences in some European Universities.
Research interests: democratic innovation, the relationships between media and democracy, the participatory and deliberative democracy, the political communication, the social and political participation.
Prof. Janet McCabe
---
PhD, Senior Lecture in Film and Television Studies
Birbeck, University of London
UK
Janet McCabe is a writer, editor and academic with over 25 years of experience. Currently she is Senior Lecturer in Film and Television Studies at Birkbeck, University of London, where she has worked since 2012. She is the co-director of Birkbeck Interdisciplinary Research in Media and Culture (BIRMAC) and one of the curators for the Essay Film Festival held at Birkbeck in collaboration with the ICA. She is also a network co-ordinator and sits on the steering committee for the WFTHN (Women's Film and Television History Network).
She completed her PhD, with a feminist histography of early German cinema (1910-1919), at the University of Kent, Canterbury, and holds an MA in Film Studies from the University of East Anglia.
She is Editor-in-Chief at Critical Studies in Television (2005-), published by SAGE and the leading international academic journal for television studies with four issues a year. Her research focuses on feminism, representational politics and contemporary television from a cultural studies perspective, as well as cultural memory, history and politics in contemporary television, primarily US. More recently interests have included transnationalism, global patterns of representational forms in original scripted TV formats, and the audio-visual as a form of practice-as research within television studies.
She is the author of two monographs, The West Wing (Wayne State University Press, 2013) and Feminist Film Studies: Writing the Woman into Cinema (Wallflower, 2004). She has written extensively on feminism and television, with her work appearing in various edited collections and journals (including NECSUS, Continuum and Feminist Media Studies). Along with Kim Akass, she was the co-series editor for 'Reading Contemporary Television' (I.B. Tauris) and has co-edited a number of collections including TV's Betty Goes Global: From Telenovela to International Brand (I.B. Tauris, 2013), Quality TV: Contemporary American Television and Beyond (I.B. Tauris, 2007) and Reading Sex and the City: Critical Approaches (I.B. Tauris, 2004), which was translated into Korean, Russian and Japanese. Her latest monograph, Disconnected Heroines, Global Femininities: Transnational TV Feminism and the Geopolitics of Representation in Bron-Broen-The Bridge and Beyond, is forthcoming from Bloomsbury Academic (2021).